Letter to all Members (updated 14th August)
The following letter was sent to all members requiring a response by Saturday 13th August. If you have not returned the signed declaration, then your card will have been switched off. If you wish to continue using the pool, return the form as soon as possible for your card to be re-enabled.
Following two incidents at swimming pools within Surrey, Guildford Borough Council HSE have inspected all pools within their area that are open to swimming by the public. Whilst praising Shere Pool for its history, systems and record keeping it has resulted in several Health and Safety changes to our rules and systems that we are required to implement. The changes which have immediate effect on all members and have to be the responsibility of the individual member, are as follows:
ANY CHILD UNDER 16 YEARS OLD THAT

CANNOT SWIM A WIDTH UNAIDED

MUST BE ACCOMPANIED

IN THE WATER

BY A RESPONSIBLE ADULT. IF YOU ARE CERTAIN THAT YOUR CHILD OR ANY CHILD WITHIN YOUR CARE ADMITTED WITH YOUR CARD

CAN SWIM A

WIDTH UNAIDED

, THEN IT IS ACCEPTABLE FOR YOU TO SUPERVISE THEM FROM THE POOL SIDE.
THE

MAXIMUM NUMBER OF PEOPLE

ALLOWED IN THE POOL AT ANY ONE TIME IS

50
Members found breaching these or any other rules risk losing their membership and the denial of future renewal. Safety at the SSPC pool depends on self policing of these and all other rules by members. Abusive responses to requests to observe the rules will also result in loss of membership. Should an accident occur Guildford Borough Council HSE could insist on the presence of a lifeguard which would resultin a significantly higher membership fee and restricted opening times.
The club is run by a committee of volunteers who are not in a position to ignore this and other requirements and ask that you cooperate in order that the pool can continue to remain open.
Therefore: ALL ADULT MEMBERS MUST READ AND SIGN the attached declaration and return to the Membership Secretary (address above) by Saturday, August 13th. If no such undertaking is received at this time, your gate card will be deactivated. If you feel unable to comply please let us know and you will be deemed to have relinquished your membership.
A copy of this letter (and form) is available for download here.
Ron Chapman - an appreciation
We are sad to report the recent death of Ron Chapman. Ron joined the Committee in 2002 and put in many hours of work into the running of the pool, including putting on the cover at closing time, trouble shooting at anti-social disruptions, general repairs and odd jobs. He will be sadly missed.
Pre-season cleaning and maintenance - April 2016
In early April the pool was emptied: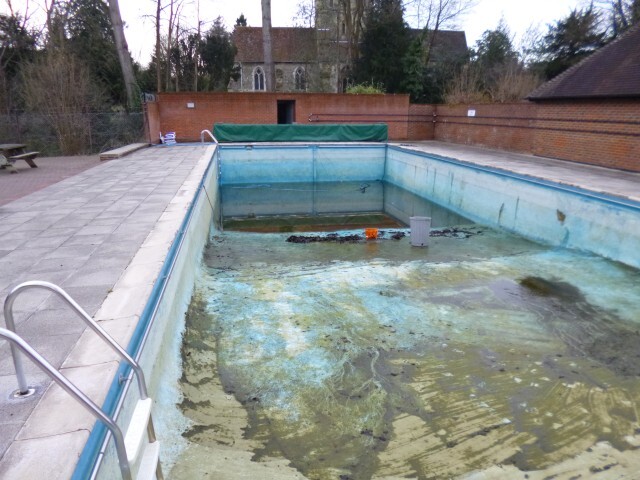 And then the rendering patched and the sides and bottom pressure-washed: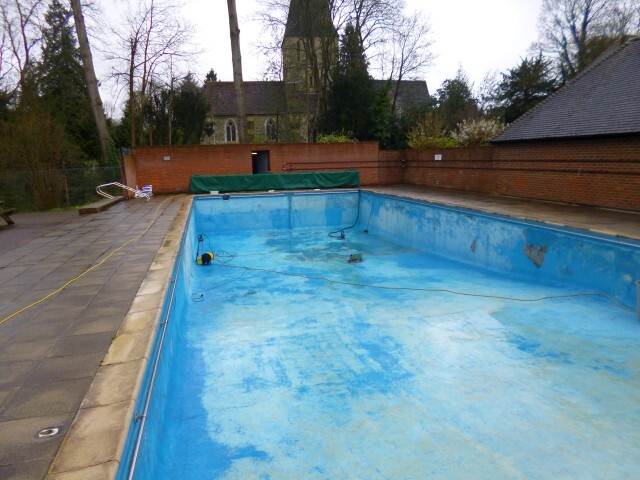 Good progress is now being made on the repainting - not much more to do!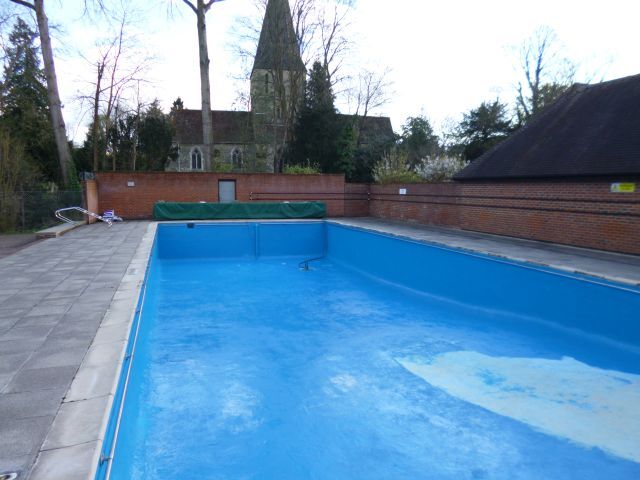 And now the pool is very nearly full!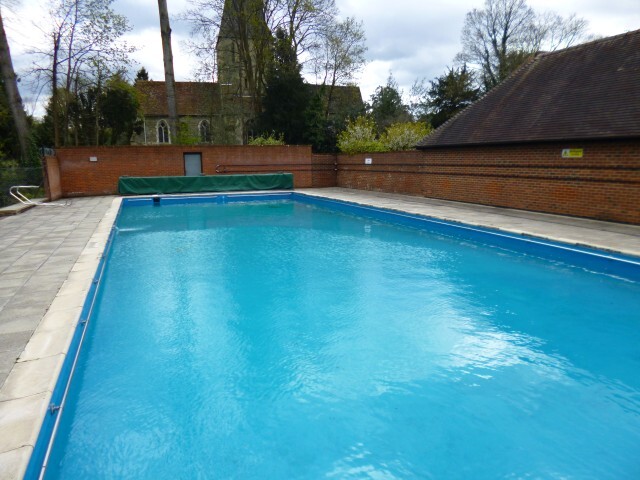 GUEST TICKETS – From 2016 only the new Guest Tickets bearing serial numbers will be accepted:

The following old tickets are no longer valid. If you still have any, you may send them in with your membership application form to be exchanged for new ones.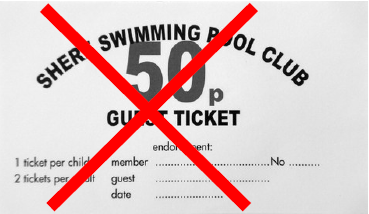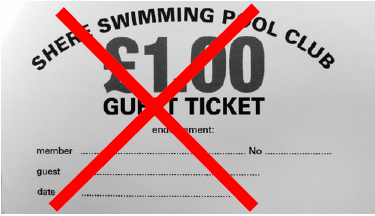 Additional books of tickets may be purchased by post from the Membership Secretary - please remember to enclose a SAE along with your cheque.